Breville's Oracle Touch automatic espresso machine
Breville's Oracle® Touch, the next generation automatic espresso machine that brews true café quality coffee similar to that delivered by manual commercial espresso machines using a simple touch screen. Its intuitive automation and advanced technology offers the ultimate convenience for coffee connoisseurs who desire an easy to use system that creates exceptional beverages – the Oracle® Touch is like having a barista inside the machine. Winning a number of 2017 design awards, including the "2017 Best New Product" award from the Speciality Coffee Association, the Oracle® Touch is an industry leading innovation that automates the process to make superior coffee at home, without compromising on taste.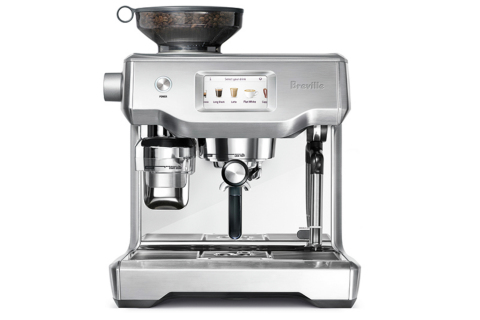 The Oracle® Touch's innovative automation simplifies the experience for effortless brewing and delivers the four key elements required for true café quality coffee at home similar to a commercial machine:
1. Dose amount of 19-22 grams to yield full flavor
2. Precise water temperature control throughout extraction
3. Optimal 9 BAR water pressure
4. Sufficient steam pressure to produce micro-foam that creates velvety milk texture
With a touch of a finger, the machine automatically grinds, doses and tamps coffee, automatically pre-infuses and then extracts at 9 BAR pressure using water heated to a precise temperature. Finally, it automatically steams and textures milk to create a variety of coffee drinks as well as produce the silky micro-foam needed to create latte art. Once a beverage is made, the Oracle® Touch's steam wand automatically cleans itself.
"The Oracle® Touch is redefining the way consumers prepare and enjoy premium coffee in the comfort of their homes," said Phil McKnight, Global Beverage Business Manager, Breville Pty Limited. "This machine was designed with brewing true café quality coffee in mind while also simplifying the steps of traditional one-touch automatics. There's no trade-off required – it simply makes delicious coffee drinks like a commercial machine and the touch screen automation makes it easy to use."
The Oracle® Touch allows users to swipe and select from a full menu of classic café favorites – espresso, Americano, latte, flat white, or cappuccino – and the option to customize them based on taste preferences. Options include grind size, extraction time, milk temperature and milk texture. Up to eight personalized settings with a unique name and picture can be saved for future use.
Other innovative features and offerings of the Oracle® Touch include:
Two porta-filter basket options: Includes both single and double shot filter baskets that allow users to easily switch out and adjust the coffee amount used to suit personal preference.
Speedy execution: Contains a dual boiler heat system that allows for simultaneous extraction and milk texturing. Users can automatically texture milk to their taste and extract an espresso shot at the same time, saving precious time.
Optimal water pressure and temperature: Includes an Over Pressure Valve (OPV) found in commercial machines that helps prevent bitterness by limiting extraction pressure to 9 BAR. Digital temperature control (PID) technology is used to keep water temperatures within an optimum range, which is critical to delivering the perfect tasting espresso.
Automatic milk texturing: Injects air directly into the steam line to automatically produce silky micro-foam, allowing you to create latte art, with an option to adjust the level of texture and temperature via the touch screen based on preference.
The Oracle® Touch (MAP: $2,499) is available for purchase at Williams Sonoma, Sur La Table, Bed Bath & Beyond, Seattle Coffee Gear, and other premium retailers.