Charred Avocado Salad with Pistachio Gremolata
Charred Avocado Salad with Pistachio Gremolata
Recipe created by Chef Kevin Meehan of Kali for the California Avocado Commission.
Serves: 4
Prep time: 15 minutes
Cook time: 5 minutes
Total time: 20 minutes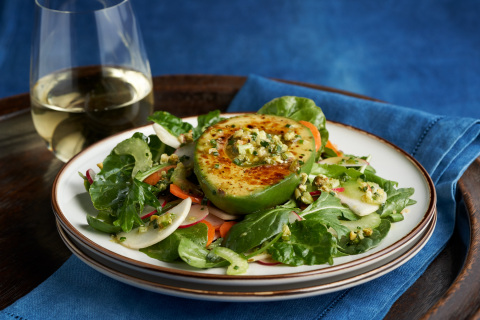 Ingredients:
2 firm ripe avocados, halved, seeded and peeled
2 Tbsp. orange honey
1/8 tsp. salt, or to taste
Freshly ground black pepper, to taste
2 Tbsp. grapeseed oil
1/4 cup chopped pistachios
1/4 cup extra-virgin olive oil
1/3 cup pistachio oil or sunflower oil
3 lemons, juiced and zested
3 Tbsp. diced chives
6 cups pre-washed mixed greens
1/4 cup shaved carrots
1/4 cup shaved celery
1/4 cup shaved radish
1/4 cup shaved turnip
Salt and pepper, to taste
Instructions:
Brush honey on cut side of each avocado and season with salt and pepper.
Heat grapeseed oil in a non-stick pan on medium until smoking.
Place each avocado half cut side down in the pan to fully sear, until the honey caramelizes into a dark, golden color.
Once golden, remove avocado halves to cool to room temperature and set aside.
To make the gremolata, combine pistachios, olive oil, pistachio oil, chives, lemon juice and zest in a mixing bowl.
In a larger mixing bowl, combine mixed greens, carrots, celery, radish, turnips and enough gremolata to dress the salad.
Spoon approximately 2 cups of the dressed salad mixture on a plate.
Place each skinned, halved avocado on a plate, char side up, and spoon another small portion of gremolata on top of the avocado, filling it.
Use any remaining salad mixture to fill the plate, topping the gremolata over the full dish.