Linguine with Avocado Pesto and Cherry Tomatoes Recipe
Linguine with Avocado Pesto and Cherry Tomatoes
Recipe created by Chef Josiah Citrin of Charcoal Venice for the California Avocado Commission
Serves: 4
Prep time: 25 minutes
Cook time: 10 minutes
Total time: 35 minutes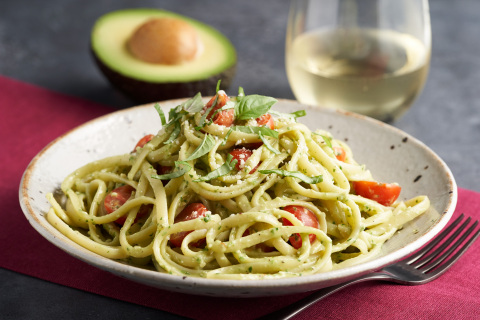 Ingredients:
1 lb. linguine, cooked al dente, reserving 1 cup of pasta water
2 ripe avocados, seeded and peeled
1 cup baby arugula leaves
1 cup baby spinach leaves
1 cup fresh basil leaves, packed
1/4 cup toasted pumpkin seeds
1/4 cup toasted cashews
2 cloves garlic, peeled and smashed
3 Tbsp. lemon juice
3 Tbsp. extra virgin olive oil
1 tsp. sea salt
2 tsp. freshly ground black pepper
1 cup grated parmesan cheese
1 cup halved cherry tomatoes
2 Tbsp. julienned basil leaves, for serving
Instructions:
Place cooked linguine and reserved pasta water to the side.
Add the halved avocados, baby arugula, baby spinach, basil leaves, pumpkin seeds, cashews, garlic, lemon juice, extra virgin olive oil, sea salt and pepper to a blender or food processor and then blend until smooth.
Once the pesto is smooth, add the grated parmesan and pulse a few more times to combine.
Place the pasta in a large serving bowl and top with the California Avocado Pesto.
Toss the pasta together with the pesto until coated.
Add the halved cherry tomatoes
A small amount of reserved pasta water can be added to the pasta, as needed, to create a loose, silky pesto that coats the linguini evenly.
Sprinkle pasta with the julienned basil leaves and serve.