Hummus Toast with Sun-dried Tomatoes and Parmesan Recipe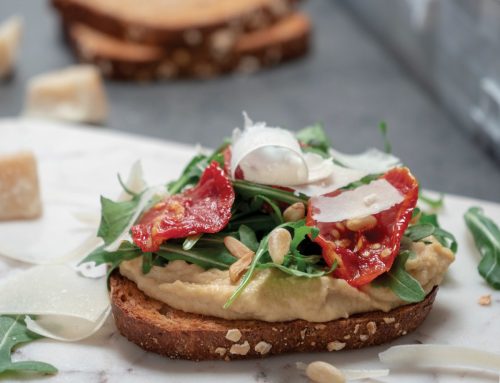 Hummus Toast with Sun-dried Tomatoes and Parmesan
Servings: 1
1          slice whole-grain bread
1/4       cup fresh arugula
2-3       sun-dried tomatoes
2          tablespoons Sabra Classic Hummus
            olive oil
2          tablespoons pine nuts
            fresh Parmesan curls
            salt, to taste
            pepper, to taste
Toast bread; set aside. Wash and pat dry arugula; set aside.
Remove sun-dried tomatoes from jar and lightly pat with paper towel to remove excess oil.
Spread toast with hummus.
Lightly toss arugula with drizzle of olive oil; layer on top of hummus. Top with sun-dried tomatoes. Sprinkle with pine nuts and add Parmesan curls. Add salt and pepper, to taste.