Veal, Spinach and Tomato Arepas Recipe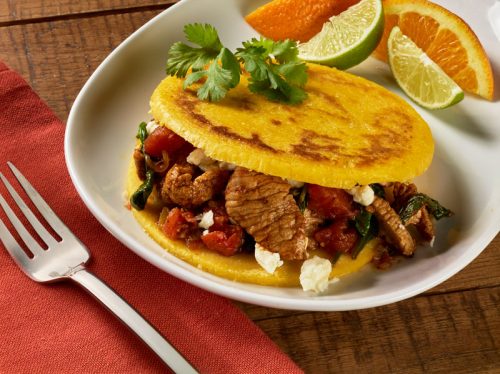 Veal, Spinach and Tomato Arepas
Prep time: 15 minutes
Cook time: 20 minutes
Serves: 4
1/2       pound veal cutlets
1          teaspoon cumin
1/2       teaspoon chili powder
1 1/2    tablespoons olive oil
2          green onions (1 ounce each), sliced
1          clove garlic, minced
1          can (10 ounces) diced tomatoes and green chilies
1/8       teaspoon salt
2          cups packed baby spinach (about 2 1/2 ounces)
4          arepas (5 inches in diameter)
1/4       cup crumbled queso blanco cheese (1 ounce)
Pound veal cutlets into 1/4-1/8-inch thickness; cut into 1-inch strips. Place in bowl and toss with cumin and chili powder.
In 12-inch, nonstick skillet over medium heat, heat olive oil. Cook veal strips 1-2 minutes. Remove veal to plate; keep warm. In same skillet over medium heat, cook green onions and garlic 2-3 minutes. Add tomatoes and salt; over high heat, heat to boil. Reduce heat to low; simmer 5 minutes until slightly reduced.
Stir in spinach. Cook 3-4 minutes, or until spinach wilts and is tender. Return veal to skillet; heat through.
To serve, heat skillet or griddle over medium heat. Toast arepas on each side until lightly browned and heated through, turning once.
Cut each arepa in half horizontally. Top bottom half of each arepa with veal mixture. Sprinkle each with cheese; replace arepa tops.
Nutrition information per serving (1 arepa): 15 g protein; 12 g carbohydrate; 14 g fat; 5 g saturated fat; 50 mg cholesterol; 450 mg sodium; 2 g total sugars; 10% DV calcium; 10% DV iron.