Classic Veal Parmesan Sandwiches Recipe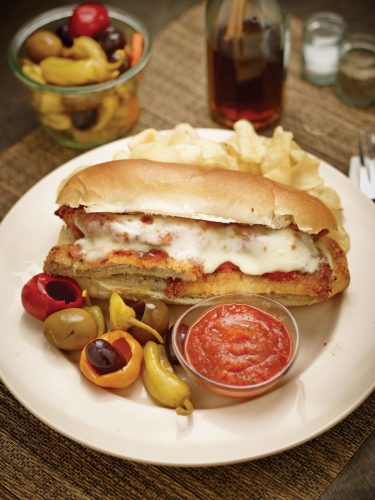 Classic Veal Parmesan Sandwiches
Prep time: 10 minutes
Cook time: 10 minutes
Serves: 6
6          veal cutlets (3 ounces each)
            salt, to taste
            ground black pepper, to taste
1/2       cup all-purpose flour
1          egg wash
1          cup breadcrumbs
1          cup vegetable oil
12        tablespoons tomato sauce
3          tablespoons Parmesan cheese, grated
6          slices provolone cheese
6          slices mozzarella cheese
6          sub rolls
Heat oven to 350 F.
Pound each veal cutlet between sheets of parchment or plastic wrap until 1/4-inch thick.
Blot veal dry. Season each cutlet with salt and pepper, to taste. Dredge veal in flour; shake off excess. Dip in egg wash and dredge in breadcrumbs.
In large skillet over medium heat, heat about 1/8-inch oil to about 350 F. Working in batches, add breaded veal to hot oil and pan fry first side until golden brown and crisp, about 2 minutes. Turn once and pan fry second side until it reaches internal temperature of 160 F, about 1-2 minutes.
Drain on paper towels or wire rack set over baking sheet.
Add 2 tablespoons tomato sauce to each veal cutlet and sprinkle 1/2 tablespoon Parmesan cheese on top. Add one slice provolone and mozzarella cheese to each cutlet.
Place veal parmesan in oven 2-3 minutes, or until the cheese begins to melt and veal is hot.
Add veal to sub rolls and serve.
Nutrition information per serving: 45 g protein; 55 g carbohydrate; 7 g fiber; 11 g fat; 7 g saturated fat; 145 mg cholesterol; 908 mg sodium.