Veal Za'atar Flatbreads Recipe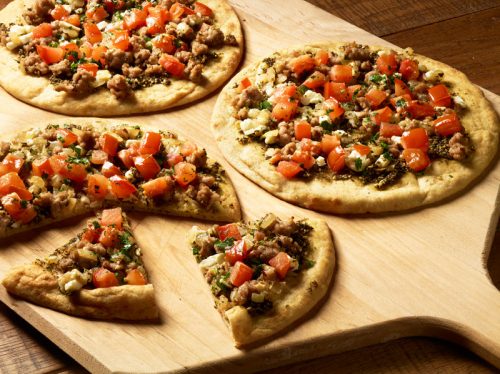 Veal Za'atar Flatbreads
Prep time: 15 minutes
Cook time: 25 minutes
Serves: 4
1/4       cup za'atar seasoning
3          tablespoons extra-virgin olive oil, divided
1          package (10 ounces) flatbreads
1          onion (4 ounces), finely chopped
1/2       pound ground veal
1/4       cup crumbled feta cheese
1          tomato (6 ounces), cored and chopped
            chopped parsley, for garnish
Heat oven to 425 F. In small bowl, combine za'atar seasoning and 2 tablespoons olive oil.
Spread about 1 tablespoon za'atar mixture on each flatbread. Arrange flatbreads on large baking sheet; set aside.
In 10-inch skillet over medium heat, heat remaining olive oil. Cook onion 4-5 minutes, stirring occasionally. Add veal and cook 4-5 minutes until no longer pink, stirring to break up meat.
Remove skillet from heat; stir in feta cheese. Spoon 1/4 veal mixture onto each flatbread. Sprinkle each flatbread with tomato. Bake 8-10 minutes, or until hot. Sprinkle each flatbread with parsley.
Nutrition information per serving: 17 g protein; 40 g carbohydrate; 19 g fat; 5 g saturated fat; 45 mg cholesterol; 760 mg sodium; 1 g fiber; 5 g total sugars; 10% DV calcium; 15% DV iron.