Pulled Pork Sandwiches with Peach-Olive Jam Recipe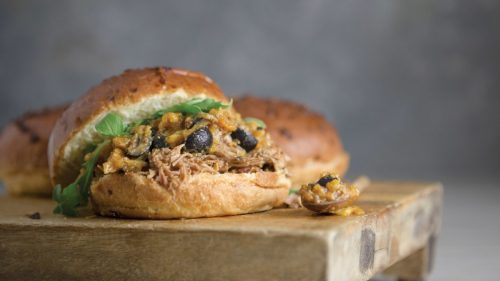 Pulled Pork Sandwiches with Peach-Olive Jam
1          teaspoon olive oil
3          pounds pork shoulder roast
            kosher salt, to taste
            ground black pepper, to taste
4          cloves garlic, quartered
4          cups low-sodium chicken broth
8          ounces dried peaches
1          tablespoon chili powder
1          cup California Black Ripe Olives, wedged
2          teaspoons country mustard
1          ounce arugula
8          onion rolls, split and toasted
Heat oven to 375 F.
In large, high-sided saute pan, heat oil over medium-high heat.
Season pork with salt and pepper, to taste, and cook in pan 3-4 minutes on each side until browned.
Stir in garlic and continue cooking 3-5 minutes.
Pour in chicken broth, peaches and chili powder; bring to boil.
Cover loosely with foil and bake in oven 2 hours.
With slotted spoon, carefully remove peaches and transfer to small mixing bowl. Mix olives and mustard with peaches; set aside.
Continue to cook pork in oven 30-60 minutes until fork tender.
Allow to cool slightly then shred by pulling apart with fork.
Assemble sandwiches by spooning pork onto toasted rolls.
Top with arugula and peach-olive mixture.