Crispy Baked Wings with Chipotle Barbecue Sauce or Nashville-Style Sauce Recipe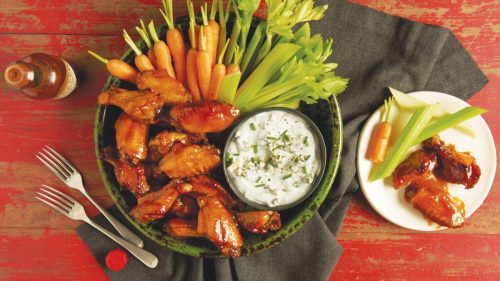 Crispy Baked Wings with Chipotle Barbecue Sauce or Nashville-Style Sauce
Prep time: 10 minutes
Cook time: 40 minutes
Servings: 4-6
Wings: 
2          tablespoons baking powder
1          teaspoon salt
1          teaspoon paprika
1/4       teaspoon black pepper
4 1/2    pounds chicken wings, drums and flats separated, tips removed
Chipotle Barbecue Sauce:
1          cup barbecue sauce
3          tablespoons Tabasco Chipotle Sauce
2          tablespoons lime juice
Nashville-Style Sauce:
6          tablespoons Tabasco Sauce
8          tablespoons butter, softened
1          tablespoon light brown sugar
1          teaspoon paprika
1/2       teaspoon garlic powder
1/2       teaspoon salt
Heat oven to 425 F.
In bowl, combine baking powder, salt, paprika and black pepper. Shake over both sides of wings.
Place seasoned wings on rack over foil-lined sheet pan.
Bake 20 minutes, turn wings over and continue cooking additional 20 minutes in convection oven or 30 minutes in conventional oven. Cooked wings should reach at least 180 F internal temperature with crispy texture.
To make Chipotle Barbecue Sauce: In bowl, mix barbecue sauce, Tabasco Chipotle Sauce and lime juice.
Alternatively, to make Nashville-Style Wing Sauce: In bowl, mix Tabasco Sauce, butter, brown sugar, paprika, garlic powder and salt. Set aside.
Remove wings from oven. Toss wings with preferred sauce and serve.