Chicken and Wild Rice Soup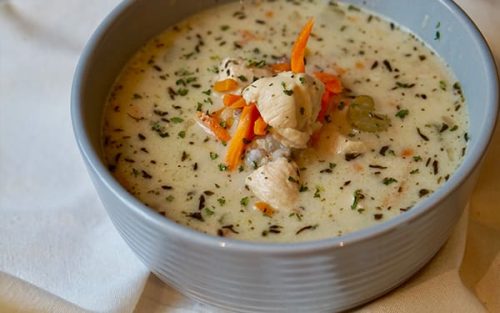 Chicken and Wild Rice Soup
Recipe courtesy of Milk Means More
Prep time: 15 minutes
Cook time: 1 hour
| | |
| --- | --- |
| 1 | cup shredded carrots |
| 1/2  | cup finely chopped onion |
| 1/2  | cup sliced celery |
| 2 | cloves garlic, minced |
| 2 | tablespoons butter or clarified butter |
| 4 | cups chicken broth |
| 4 | ounces (about 2/3 cup) wild rice, rinsed and drained |
| 1 | teaspoon dried thyme leaves |
| 1/4  | teaspoon salt |
| 1/4  | teaspoon pepper |
| 12 | ounces skinless, boneless chicken breast halves, cut into 3/4-inch pieces |
| 1 | cup plain low-fat Greek yogurt |
| 2 | tablespoons flour |
| 1/2  | cup whipping cream |
In Dutch oven, cook carrots, onion, celery and garlic in hot butter about 2 minutes, or until tender, stirring occasionally.
Stir broth, wild rice, thyme, salt and pepper into vegetable mixture. Bring to boil. Reduce heat. Simmer, covered, 40 minutes. Stir in chicken pieces. Return to simmer, covered, 10-15 minutes, or until rice is tender and chicken is done.
In small bowl, whisk together yogurt and flour. Gradually whisk in cream. Stir into chicken mixture. Cook and stir over medium heat until boiling. Boil 1 minute. Ladle into bowls.