Hummus Toast with Soft-Boiled Egg and Spinach Recipe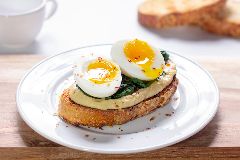 Hummus Toast with Soft-Boiled Egg and Spinach
Servings: 1
1          slice artisan country white bread
1/4       cup fresh spinach, wilted 
            water
1          soft-boiled egg
            ice
1          garlic clove, chopped
1          teaspoon olive oil
2          tablespoons Sabra Classic Hummus
            red pepper flakes, for garnish
            salt, to taste
            pepper, to taste
Toast bread; set aside. Wash spinach; set aside.
Fill small saucepan with enough water to barely cover egg; bring to boil, cover and reduce heat. Cook egg 6 minutes, remove from heat and plunge into ice bath to stop cooking. Peel egg; set aside.
In medium skillet, saute chopped garlic in olive oil approximately 3 minutes; add spinach and stir 2 minutes, or until spinach begins to wilt. Remove from heat.
Spread toast with hummus. Add wilted garlic-spinach. Cut egg in half and place on top of spinach. Sprinkle with red pepper flakes, salt and pepper.