Mediterranean Grilled Veal Salad Recipe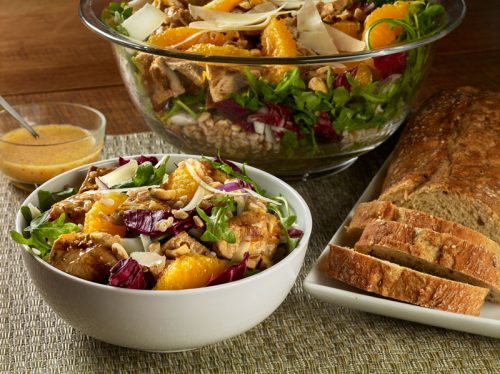 Mediterranean Grilled Veal Salad
Prep time: 20 minutes
Cook time: 10 minutes
Serves: 4
1          large orange (12 ounces)
1/2       cup Italian salad dressing
1          teaspoon Dijon mustard
1          veal cutlet (12 ounces), pounded to 1/4-1/8-inch thick
1          bulb fennel (7 ounces), trimmed, halved and cored
1/2       small red onion (1 1/2 ounces), thinly sliced
1 1/2    cups cooked farro
2          cups packed baby arugula (about 3 ounces)
1          head radicchio (4 ounces), cored and torn (about 2 cups packed)
1/2       cup toasted hazelnuts, chopped
1          ounce Parmesan cheese
Grate 1/2 tablespoon zest from orange; reserve orange. Stir zest into salad dressing.
Use knife to remove skin and pith from orange. Use knife to cut between fruit and membrane to release each orange section. Squeeze membrane to extract 1/4 cup juice; reserve juice and orange sections.
In bowl, whisk reserved orange juice, mustard and salad dressing. Remove 1/4 cup dressing to re-sealable food storage bag. Add veal cutlets to dressing in bag. Re-seal bag and turn several times until veal is coated with dressing; set aside.
Prepare grill or heat grill pan over medium-high heat on stovetop. Remove veal cutlets from dressing; discard dressing. Grill veal cutlets 5-6 minutes, turning once. Remove cutlets from heat. Place on cutting board and cut into bite-size pieces.
Thinly slice fennel halves and place in bowl. Add red onion, farro, arugula and radicchio; toss. Add veal, orange sections, reserved salad dressing and hazelnuts.
Draw blade of vegetable peeler across surface of cheese to make thin ribbons. Toss to coat with dressing. Divide salad among four bowls.
Nutrition information per serving (about 2 cups): 30 g protein; 36 g carbohydrate; 17 g fat; 3 g saturated fat; 50 mg cholesterol; 560 mg sodium; 6 g fiber; 9 g total sugars; 3 mg iron; 539 mg potassium.