Children Sending a Record Number of Wish Lists to Santa via His Text-Enabled, Toll-Free Phone Number
Zipwhip, the leading software platform for two-way business texting, today shared that there have been more than 60,000 messages on Santa's text-enabled, toll-free phone number, 844-YO-SANTA (844-967-2682), since October 1, 2017. Texting continues to be one of fastest and easiest ways for children, along with their parents, to share their long-awaited wish lists with Santa and his workshop of elves.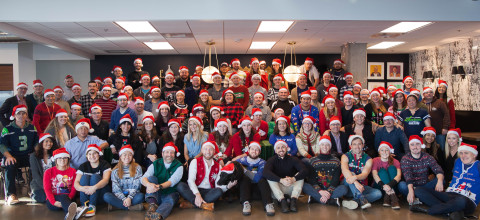 Santa can receive up to 1,000 texts per second on his toll-free phone number and plans to respond to every initial text message received, with the help of his elves. Because Santa will be busy building toys and packing his sleigh, he won't have time to respond personally to additional messages following someone's first text.
The texting line lets Santa and his elves quickly and easily review wish lists from boys and girls across North America. Plus, by texting instead of sending wish lists via snail mail, children and their parents can save on postage and share their wish lists at the push of a few buttons.
"The Christmas spirit is alive and well this year," said John Lauer, CEO of Zipwhip. "We're thrilled that yet again, children will have a direct line to Santa via Zipwhip's two-way texting software."
The 200 employees of Zipwhip got into the Christmas spirit and offered to help Santa from their satellite Seattle workshop. The company's usual customers include businesses across the country, from small shops to enterprise organizations, who use Zipwhip's conversational texting software to communicate with customers from their existing business phone numbers.
Texting Santa
Santa invites parents and their kids to text him their wish lists on his toll-free phone number 844-YO-SANTA (844-967-2682).