FrontRow: The Camera Re-Invented
Ubiquiti Networks, Inc.'s FrontRow, a new camera technology enabling the effortless capture and sharing of life's experiences.
Truly Wearable
FrontRow's sleek, 55-gram (less than the weight of a typical smart-watch) form-factor was specifically designed to wear conveniently. Unlike traditional cameras and smartphones requiring manual operation, FrontRow can operate fully autonomously — allowing one to capture life's experiences while completely staying in the moment.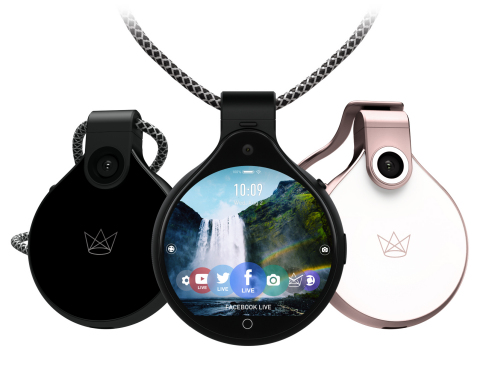 The Design
A subtle interlocking connector provides the flexibility to wear FrontRow using the included stylish lanyard or multi-purpose magnetic clip, or third party chains. Upcoming accessories include a car window mount and flexible coil mount. FrontRow features cameras on both sides of the device. The primary camera features a 140 degree wide-view lens (roughly double that of a typical smartphone) that, combined with FrontRow's microphone array, allows for more complete capturing of experiences. The device features a speaker for local playback and an easy-access clickable media button that can be used to quickly start and stop many of FrontRow's capture functions. FrontRow has a standby time of up to 48 hours and is capable of capturing in Story Mode (time-lapse capture of experiences) for up to 16 hours and in Live-Streaming Mode for up to 2 hours. With its USB Type-C connector, the device can be charged on the go using other Type-C smartphones and has a quick-charge time of around 20 minutes.
The User-Experience
FrontRow's user experience is unlike any camera brought to market. Built around a custom 2-inch circular hi-resolution touch screen, FrontRow's user interface allows instant live streaming on social networks including Twitter, Facebook, and YouTube, as well as integration with a variety of popular applications like Dropbox, Spotify, and more. Fast Bluetooth allows effortless connectivity to smartphones running the FrontRow App (iOS and Android compatible) and provides seamless captured media transfer along with powerful remote control capabilities. The device can also be accessed (even remotely) through the Internet using the web UI controller.
FrontRow is available Amazon.com.