NBA 2K18 is Now Available
2K announced that NBA® 2K18, the next iteration of the top-selling and top-rated NBA video game simulation series, is now available for purchase at retail and online vendors worldwide. One of the most dominant entertainment franchises of the past decade, NBA 2K18 is reinventing sports gaming yet again with the introduction of the Neighborhood, the first live world inside NBA 2K18.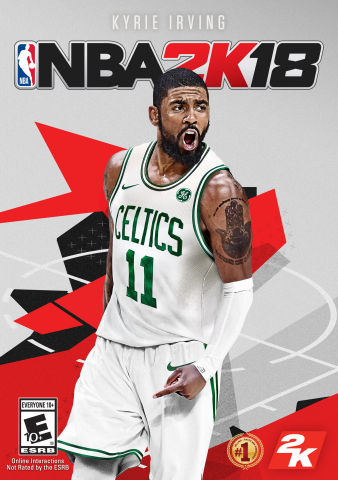 NBA 2K18 on PlayStation® 4, Xbox One, Windows PC and Nintendo Switch delivers dynamic new features including:
RUN THE ALL-NEW NEIGHBORHOOD: The future of sports career modes has arrived, allowing you to play the game the way you like while living in an immersive basketball themed environment. Build your career in NBA games, hit the courts in The Playground Park, join the Pro-Am circuit, or explore the shops and venues in an all-new open neighborhood setting.
THE ROAD TO 99: The overarching meta-game that rewards users for improving their MyPLAYER's overall rating, regardless of which MyCAREER modes they choose to play. Featuring a unified badge system across Pro-Am, Playground Park and your NBA journey in MyCAREER, your attributes, animations and badges all combine to define your play style on your road to a 99 overall rating.
NEW MOTION SYSTEM: The new motion system brings player control to a new level of realism. Now, dribbling and off the ball movement are no longer driven by animations. This groundbreaking technology dynamically creates animations to deliver the best gameplay experience possible. You are now in complete control.
MyTEAM: Collect cards featuring NBA legends from yesterday and today, and compete in a variety of online & offline modes including the all-new Super Max and Pack & Playoffs.
UPDATED CREATE A PLAYER: Create the MyPLAYER you want, whether scanning your face with the MyNBA2K18 mobile app or building something custom using preset options. Hairstyles have been updated with numerous new options to choose from, and body weight and height are more accurately represented to ensure the unique look you want for your MyPLAYER.
ALL-TIME TEAMS: The greatest players in NBA history from all 30 teams, together on All-Time franchise rosters for the very first time. Compete in Play Now to find out which franchise's All-Time Team reigns supreme, or challenge all 30 All-Time Teams in MyTEAM's All-Time Domination mode.
CLASSIC TEAMS: Play with 62 of the NBA's greatest teams from the past, including 17 new additions. Pit your favorite classic roster against current NBA teams, replay epic Finals matchups, find out if Shaq & Kobe can compete with the great Lakers teams of the past, or matchup the '97-98 Bulls against the '15-16 Warriors to settle the argument once and for all. The possibilities are endless.
The NBA 2K18 Standard Edition is now available in both digital and physical formats for $59.99 on PlayStation®4 and PlayStation®3 computer entertainment systems, Xbox One and Xbox 360, and Windows PC platforms. The NBA 2K18 Legend Edition and Legend Edition Gold are also now available in both digital and physical formats for $99.99 and $149.99 respectively, on PlayStation®4 computer entertainment system and Xbox One. NBA 2K18 is available in digital format on Nintendo Switch, and will be released physically on the platform on October 17, 2017.