Red Roof Rewards Loyal Guests with an even Richer RediCard Rewards Program
Already the richest rewards program in the economy hotel industry, Red Roof's RediCard® is taking its point-based rewards to new heights. Guests can now use their RediCard points to not only book free nights, but also to shop for gift cards from popular retailers like Amazon and Target or consumer products from Red Roof's online catalog, including Apple products, cameras, luggage, watches and more.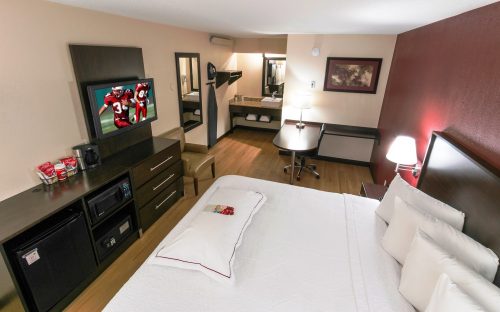 Red Roof has the lowest brand-wide points requirement in the industry, as free night are just 7,000 points at every Red Roof location for RediCard members. Guests earn 10 points for every dollar in room rate paid and can use them to book on RedRoof.com, in person at a Red Roof property or by calling 800.RED.ROOF. RediCard members will also have immediate online access to earned rewards.
"After obsessively listening to guest feedback, we significantly expanded the selection of rewards that guests can redeem with their RediCard points, providing richer rewards and the kind of retail products guests asked for," says Marina MacDonald, Chief Marketing Officer, Red Roof. "The power of our generous rewards program has driven repeat business and also enticed new consumers to experience the Red Roof brand."
The relaunched RediCard program is just one of the innovations Red Roof has introduced this summer. Consumers can now experience the redesigned RedRoof.com, with fast, easy and intuitive booking features that enable travelers to go from road to pillow faster than ever before. Built on a mobile-first, best-in-class design platform, the site is easy to follow and understand. It includes smart features that store travel preferences and booking habits; it knows everything about the traveler, where they are and the direction they are headed, allowing travelers to book while on the go, securing the best rate with a simple "Tap! Tap! Go!"
Additionally, in support of the industry-wide Search Smarter campaign to educate travelers on the dangers of fake booking websites, Red Roof is taking the lead to further protect consumers by launching its Type Don't Click campaign to ensure safe, authentic booking. According to the American Hotel & Lodging Association, there has been an astounding 250 percent increase over the past two years in the number of consumers who have fallen victim to online booking scams.
To combat this, Red Roof announced its Type Don't Click campaign, urging travelers to type RedRoof.com directly into their browsers to avoid booking scams, lost reservations, additional fees and ruined vacations while guaranteeing that they receive the room and rate they reserved. Booking directly gives travelers the peace of mind that their reservation is safe and the confidence that they are interacting with the real Red Roof.
Booking on RedRoof.com is easy, simple and economical. As a RediCard member, customers enjoy discounts off Red Roof's best available rate when they book directly with Red Roof at least two days in advance. On top of that, thanks to Red Roof's RediPromise™ Guarantee, customers can know without a doubt that they will receive the lowest rate available. When travelers book on RedRoof.com, if they find a lower rate within 24 hours of booking, Red Roof will not only adjust the reservation to the lower rate, but also take an additional 15 percent off the price!
For more information or reservations, call 800.RED.ROOF (800.733.7663) or visit www.redroof.com.