Romano's Macaroni Grill Makes Happy Hour Happier with New Menu
Everyone's favorite time of day just got better at Romano's Macaroni Grill. Macaroni Grill, a national restaurant chain that creates authentic and innovative Italian dishes, is introducing today its new happy hour program at its U.S. locations*. The new, tiered happy hour menu offers guests the opportunity to enjoy 12 appetizers and a wide variety of alcoholic and non-alcoholic beverages for $6 or less every night, in the bar area.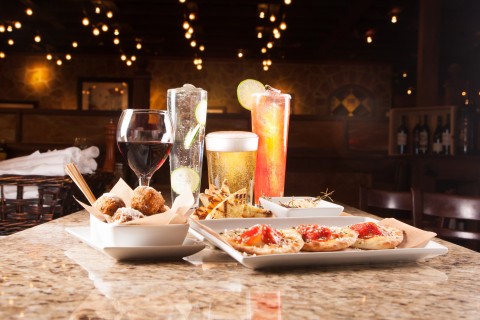 Guests can choose appetizers and beverages from three unique happy hour menus, priced at $4, $5 or $6. Macaroni Grill's culinary and beverage teams developed several new items that will be rolled out on the new happy hour menu including a warm, whipped feta served with grilled rosemary bread points; Pizza Piattos, four varieties of three-inch crispy pizzas including mushroom and goat cheese; and beverages such as Italian margaritas and non-alcoholic Frizzantes. Below are each of the menus:
| | |
| --- | --- |
| Macaroni Grill's $4 Happy Hour Menu | |
| Appetizers | |
| • Whipped Feta: | Warm, creamy feta served with rosemary bread points |
| • Mediterranean Olives: | A signature olive mix, perfectly seasoned and warmed |
| • Bruschetta: | Grilled, rustic, bread topped with whipped ricotta, Roma tomatoes, garlic and basil |
| • Loaded Fries: | French fries smothered with crispy prosciutto, parmesan, mozzarella cheese sauce, gorgonzola and Calabrian peppers |
Beverages
• Frizzantes — sparkling water and natural Cucumber, Strawberry or Basil flavors, garnished with fresh fruit
• Draft beers, including Peroni
• Well drinks
| | |
| --- | --- |
| Macaroni Grill's $5 Happy Hour Menu | |
| Appetizers | |
| Pizza Piattos: | Three, three-inch, crispy pizzas |
| • Mushroom & Goat Cheese: | A delicious blend of porcini and oyster mushrooms, caramelized onion and fonduta topped with tangy goat cheese |
| • Prosciutto and Greens: | Prosciutto, whipped feta, lemon arugula, cucumber, red pepper |
| • Margherita: | Classic Roma tomatoes, Italian-imported fresh mozzarella and basil |
| • Pepperoni: | Red sauce, mozzarella and pepperoni |
Beverages
• House Wine (red and white)
• Sangria (red and white)
• A variety of premium cocktails
| | |
| --- | --- |
| Macaroni Grill's $6 Happy Hour Menu | |
| Appetizers | |
| • Crispy Artichokes: | Artichokes, charred lemon served with a citrus black pepper aioli |
| • Ricotta Meatballs: | Two, spicy, house-made beef, veal, pork and ricotta meatballs, caramelized onions, red chile, arrabbiata and whipped ricotta |
| • Caprese Salad: | Vine-ripened tomatoes, Italian-imported buffalo mozzarella, basil, with a honey balsamic glaze |
| • Signature Mac & Cheese Bites: | Crisp-fried, four-cheese pasta served with savory truffle dip |
Beverages
• Premium Wine (red, white and rose)
• Italian Margaritas (Primo, Cucumber, Strawberry and Basil)
• Signature cocktails (Bellini, Blood Orange Cosmo, Perfect Martini, Negroni, Italian Mule or Limoncello Mojito)
"We wanted to welcome our guests in after a long day and provide them with a variety of popular, and new, items on our attractively priced Happy Hour menu," said Holly Wagstaff-Bellomo, Vice President of Marketing, Macaroni Grill. "There's nothing better than offering our guests the opportunity to relax, connect with friends in our bar, and enjoy our Happy Hour menu, every day of the week."
Macaroni Grill's Happy Hour is available in its bar only, from 3pm to close**, seven days a week.
For a full line of menu choices, visit www.macaronigrill.com.
*Happy Hour is not available at Hawaii or airport locations.
**Happy Hour times may vary based on location's local liquor laws.