Royal Wedding Awaits Winners Of National White Castle Contest
White Castle, the true destination for Craver weddings for more than a decade, is launching its first national wedding contest to award one happy couple the ultimate Royal Wedding in Las Vegas and a luxurious five-night honeymoon in Belgium. More than 75 couples have been married at White Castle restaurants across the nation over the past 10 years, however the contest's winning couple will be the first to tie the knot at the famous White Castle in Las Vegas.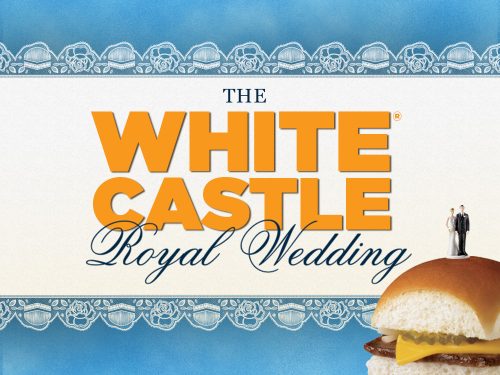 "Getting married at a White Castle in Las Vegas is a BOLD MOVE for those people looking for something new, different, exciting and memorable," said Jamie Richardson, vice president of White Castle. "Get bold with your entry. Don't just tell us, but show us why the 'Royal Wedding' experience has to be yours!"
The Grand Prize winning couple will receive a complete "Royal Wedding" experience in Las Vegas culminating with a ceremony at the iconic Las Vegas White Castle. The winning couple and six guests will enjoy roundtrip airfare, ground transportation, three nights' hotel accommodation, White Castle gift cards and more. The wedding experience will include a rehearsal dinner, wedding ceremony and reception, cake, flowers, décor, music, and a professional photographer on hand to capture every memorable moment throughout the evening.
"The 'Royal Wedding' experience doesn't stop after the ceremony," Richardson said. "The newlyweds will enjoy a luxurious honeymoon in Belgium, including a stay at a real Belgian Castle!"
The honeymoon includes roundtrip airfare to Brussels, Belgium, plus ground transportation, hotel accommodations for five nights, and a food and travel allowance.
Two more winning couples will receive the First Prize package of White Castle menu items and non-alcoholic refreshments for up to 200 people at their wedding reception held anywhere in the continental United States.
The Royal Wedding Contest opened on June 2 at 12:00am ET and runs until July 31 at 11:59pm ET, with all entries made online at www.whitecastlewedding.com. Submissions must be shared on social media using the hashtag #WhiteCastleWeddingContest to be eligible. A panel of qualified judges at White Castle will select the Grand Prize and First Prize winning couples. Winners will receive an email on or around September 15.
To enter the White Castle Royal Wedding Sweepstakes, please visit www.whitecastlewedding.com. All contest terms and conditions can be found here.