Tech21's Cases Designed to Protect the Samsung Galaxy Note8 Drop After Drop
Tech21 announced a new collection of innovative cases and screen shields for the Samsung Galaxy Note8 made of unique, patented impact protection materials that guarantee the most effective drop protection on the market.
Tech21 products are designed to protect, drop after drop. The company does this by using scientifically proven impact materials, innovative design and a rigorous testing methodology developed in partnership with the National Physical Laboratory. Tech21 cases are drop tested 20 times to ensure durability and long lasting protection able to withstand the multiple drops that occur in the everyday use of a smartphone.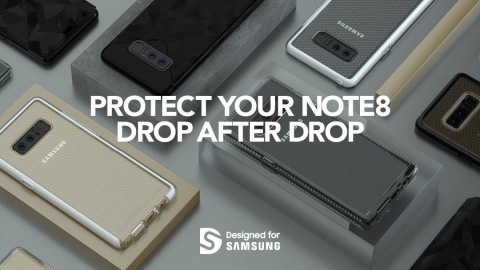 The new range includes:
Cases to match all personalities
Evo Check – More Than Skin Deep. There's more to Evo Check than meets the eye. This case adds a subtle detail to the Galaxy Note8's original beauty. But sitting beneath its unique check pattern design is an effective three-layer protection system which includes FlexShock™, an impact material unique to tech21 that provides up to 10 feet of drop protection. Evo Check comes in Smokey/Black and Clear/White. MSRP $44.99.
Evo Tactical – Raw, Tactile Feel. Designed to endure the busy day ahead while complimenting the Galaxy Note8's premium design, Evo Tactical combines durable materials with refined, contrasting textures. The case comes equipped with a three-layer protection system that includes FlexShock™, and offers drop protection up to 10 feet. The Evo Tactical case comes in black.  MSRP $44.99.
Evo Wallet – Access Everything. Comfortably. With busy lifestyles we want quick and easy access to the things we use most throughout the day – our phone and our cards. The Evo Wallet features two concealed card slots in its folio cover, where cards are kept secure and easily accessible. With FlexShock™, the case also provides up to 10 feet of drop protection. The Evo Wallet case comes in black.  MSRP $54.99.
Pure Clear – Protect. Reveal. The Galaxy Note8 is beautifully designed, and a case should enhance this design. Using new materials and cutting edge technology, Pure Clear is significantly more transparent than any other clear case. Featuring BulletShield™, it's also 50% thinner and 50% lighter than the market leader and provides up to 6.6 feet of drop protection. MSRP $44.99.
Market leading screen protection
Impact Shield with Anti-Scratch – Advanced protection. Enduring clarity. Designed to work perfectly with the subtle curves of your screen while the strong, lasting adhesive holds it in place from edge to edge, Impact Shield Anti-Scratch has a hard, durable coating which keeps your screen smooth and crystal clear for longer than ever. It also comes equipped with BulletShield™ to absorb impact force and eliminate the fear of damaging your screen. MSRP $39.99.