The Garmin vívofit jr. 2 activity tracker, features Disney, Star Wars and Marvel-themed bands
Garmin announced the vívofit jr. 2 activity tracker1 for kids with Disney, Star Wars and Marvel-themed bands and mobile app adventures. Featuring designs of kids' favorite characters including Minnie Mouse, BB-8TM and Marvel Avengers, each band theme offers a corresponding mobile app adventure where children can complete missions to advance in the journey and unlock new character step icons, with the help of their parents, by achieving 60 minutes of activity every day. This exciting collaboration leverages kids' favorite characters, encouraging children to be active, and ultimately shaping habits for lifelong health and fitness.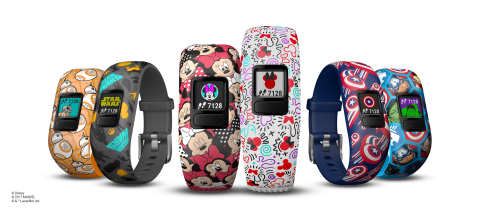 Designed for comfort and 24/7 wearability, this swim-friendly2 activity tracker features a customizable color screen, a 1+ year battery life3 and comes with one of two kid-tough band options: a stretchy band for smaller wrists or an adjustable band for older kids. The always-on color screen shows the time, the date, and even reminds kids to stay active with a move bar. In addition to tracking steps and sleep, the device measures active minutes, inspiring kids to meet the recommended 60 minutes of daily activity. Once this 60-minute goal is reached, kids can advance in new adventures, motivating them to do their best. Completing fitness goals also allows kids to unlock new character step icons, such as Minnie Mouse, BB-8, and Iron Man, which can be customized on the band display. Toe-to-ToeTM step challenge encourages friendly competition, letting kids initiate timed step competitions with their nearby friends who also sport a vívofit jr. 2 device.
The vívofit jr. 2 experience comes to life with the free companion app4, managed by parents, and each band design comes with a corresponding Disney, Star Wars or Marvel mobile app adventure. From this app, parents can review their children's daily activities and even assign chores which show up as icons on the device, perfect for kids who need reminders. For kids who tend to procrastinate, schedule alerts can be set up to nudge them to finish their homework or brush their teeth. Kids can use the task timer on the device so that they know how long they have left for each chore. The app allows for multiple profiles so parents and siblings with compatible Garmin devices can also have their steps listed on the step leaderboard, promoting healthy competition for the whole family.
Accessory bands are available for purchase separately, letting kids explore all three adventures by swapping out their band with a new one and unlocking a new adventure*.
The three different app experiences include:
Mickey's Birthday Surprise: A Disney Adventure
In this adventure, kids go alongside Minnie Mouse and her friends as they plan a surprise birthday party for Mickey Mouse. Decorate for the party with Daisy Duck, whip up the birthday cake with Goofy, and get everything ready without Mickey Mouse finding out!
BB-8's Adventure: A Star Wars Story
In this adventure, kids go alongside BB-8 and the pilot Zepha as they tackle app adventures on the planet Jakku. Search abandoned starships for missing parts, meet Maz Kanata, and help rescue BB-8 from danger!
Ultron's Revenge: A Marvel Avenger's Mission
In this adventure, kids go alongside Captain America and the Avengers as they tackle app adventures in New York City and try to defeat Ultron. Meet the invincible Iron Man at Tony Stark's lab, help Thor capture the mischievous Loki, and even accompany Black Widow on top secret S.H.I.E.L.D. missions.
The vívofit jr. 2 is available for purchase at retailers nationwide and has a suggested retail price of $99.99 USD and $29.99 for each additional band. The patterns vary by size, and include Minnie Mouse (Disney), BB-8, The Resistance, First OrderTM (Star Wars) and Avengers (Marvel).
1 See Garmin.com/waterrating
2 Under typical use; battery life may vary depending on selected performance mode and usage
3 See Garmin.com/ataccuracy
4 When paired with a compatible AndroidTM 5 or AppleTM iOS 10 smartphone; see Garmin.com/ble