Booking Hacks and Travel Tips for 2019 – CheapOair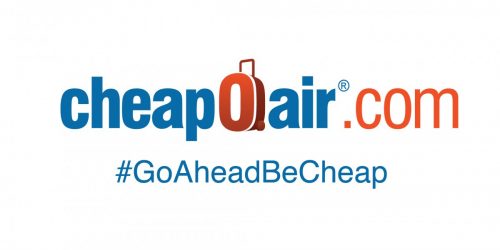 Planning a vacation requires a lot of organization and important details can easily get overlooked. CheapOair®, an online travel agency and leading provider of cheap flights, is proud to share its top travel tips and hacks for 2019. With these insights, travelers can enjoy their next vacations even more by securing great deals, saving money, and traveling both smarter and safer.
Booking Hacks:
Two countries for the price of one
Many travelers may not like the idea of long layovers, but this hack can give you extra days in another country, often without any added airfare costs. As an added bonus, you may be eligible for free hotel stays, tours, and/or airport transfers provided by the airline. Check with your airline for stopover specifics.
Mix and match airlines to save
Booking your departure and return flights on different airlines can often save you money. Two one-way tickets on separate airlines can sometimes be cheaper than a single round-trip ticket on one airline. CheapOair's flight search does this automatically by pairing one-way flight options to help you find their cheapest price.
Book in advance
The early bird gets the deal! You might be familiar with the term "last-minute travel deals" but booking as far as three months in advance can often save you much more. Additionally, you'll guarantee yourself accommodations, have access to the best selection of seats on your flights, and have your choice of excursions and tours.
Travel Tips:
Make copies of your passport
If your passport is lost or stolen, you might find yourself stuck at the airport or border and could even be denied entry into your home country. Make at least two copies of your passport before traveling. Keep one copy with you and give the other copy to a friend or family member whom you can get in touch with while you're away. You can keep yours as a printed copy or it can be digital if you'll have access to email or your smartphone.
Plan out your payments
When traveling, certain establishments may only accept certain credit cards. Having at least two different cards from different financial institutions will help to ensure you're able to complete your transactions. If you're not comfortable carrying credit cards, cash is always the best way to ensure you aren't stuck in a difficult situation. It's recommended to inform your bank of your specific travel plans because if a purchase or cash withdrawal is made in another country the bank may freeze the account as a security precaution.
Always negotiate prices first
Utilizing fun local transportation options such as cabs, tuk tuks, or rickshaws are great ways to immerse yourself in a new country. Before you get in, make sure to negotiate the price, especially if there isn't a meter. Check directions as well to inform your driver of the closest intersection, notable landmarks, and expected travel time. The more you know about your trip, the less likely a driver will be able to take advantage of you.
Be prepared and carry a small first aid kit
You never know what may happen on your journey; that's why it's best to have a small first aid kit on you to speed up your recovery should you become sick or injured when traveling. It is recommended to pack bandages, antibacterial wipes, aspirin, safety pins, tweezers, and pain relief creams. You can make a DIY kit or buy one at your local pharmacy.
For more information, please visit www.CheapOair.com, www.cheapoair.com/mobile