Mayka Toy Block Tape Revolutionizes Building Block Play
Billed as one of 2017's greatest inventions by the media, Mayka Toy Block Tape is available now in the U.S. at Walmart, and at Toys'R'Us and Target in September 2017. Launched by leading global toy and consumer products manufacturer, ZURU™, Mayka Toy Block Tape is officially licensed and rebranded from the original toy block tape and viral sensation, Nimuno Loops.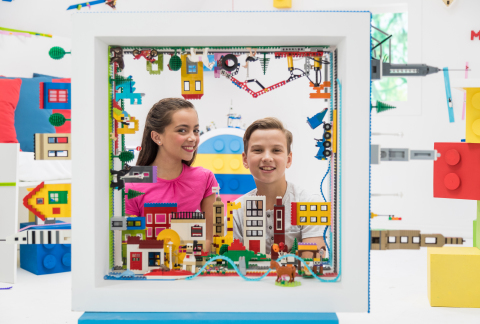 Mayka Toy Block Tape instantly transforms virtually any surface into a base for toy building blocks, figures and accessories – upping the play quotient on this popular pastime. One side features a toy block pattern on a bendable, flexible surface that is compatible with leading toy block brands and can be cut to any desired size. The other side has a re-usable adhesive backing to allow builders to construct on nearly any object, around corners and on curved surfaces to make 3D creations. With Mayka Toy Block Tape, building blocks are no longer limited to vertical creations.
Inspiring imagination and creativity, Mayka Toy Block Tape will reignite kids' passion for playing with their existing building blocks, and will also open up a new world of creations for avid LEGO® enthusiasts.
Mayka Toy Block Tape is compatible with LEGO® bricks, Kreo and all other leading toy block brands and is suitable for ages 3+. Available in nine colors, each roll is made of high-grade, reusable, adhesive non-toxic silicon tape that is non-marking. The line is comprised of three sizes – small (2 stud,1m) SRP $6.99, medium (2 stud,2m) SRP$9.99, and large (4 stud, 2m) SRP $14.99