Public Storage What a Joke! Video Contest
Public Storage is preparing for April Fools' Day, the funniest holiday of the year, by announcing its What a Joke! Video Contest. The company is offering the chance to win $5,000 to videographers ready to tell some storage-related knock-knock jokes and create some fun, yet safe, pranks.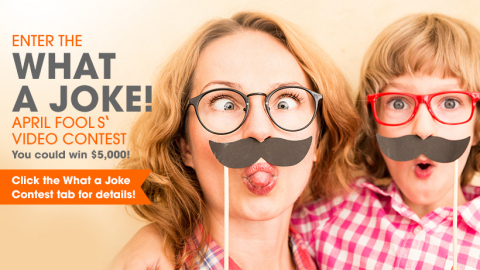 Contestants should tell their best jokes or make some one-of-a-kind pranks in their videos, which need to be less than two minutes long and feature all original content (that includes backup music for those who want to use it). Videos showing off high levels of creativity will have a shot at winning the $5,000 prize, storage-related or not.
Please upload videos to the Public Storage What a Joke! Contest tab on Facebook, or on the mobile-friendly contest page, by the end of the day March 19, 2018 for a chance to win!
The company will announce the finalists and post their videos to the Public Storage YouTube channel on March 23, 2018. Winners will be selected as fan favorites based on the most views by the contest deadline, 9 a.m. (PDT) on March 29, 2018.