Regal's Best Picture Film Festival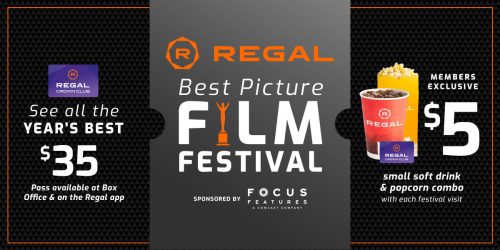 Regal announces its annual Best Picture Film Festival will take place Friday, Feb. 15, through Sunday, Feb. 24, featuring all best picture nominees that played in Regal theatres in 2018. Beginning Wednesday, Jan. 23, festival passes will be available for purchase at the box office and via Regal's mobile app, providing exclusive access to all seven movies for the special price of $35. Additionally, Regal Crown Club members who purchase a festival pass will also receive a $5 concession combo offer with each visit.
The nominated best picture films to be shown at Regal during the festival are:
Black Panther (PG-13)
BlacKkKlansman (R)
Bohemian Rhapsody (PG-13)
The Favourite (R)
Green Book (PG-13)
A Star Is Born (R)
Vice (R)
The festival will be held Friday, Feb. 15, through Sunday, Feb. 24. Festival passes will be available to purchase for $35 starting Wednesday, Jan. 23, either on the award-winning Regal mobile app or at participating Regal theatres' box office. For showtimes and ticketing information, as well as a list of participating theatres, please visit www.regmovies.com/promotions/best-picture-film-fest.
As part of the annual 2019 Red Carpet Dreams Sweepstakes, Regal will also send one lucky Regal Crown Club member and a guest to see firsthand the red carpet arrivals during the 92nd Oscars on February 9, 2020. Regal Crown Club members become eligible when they use their cards to purchase a festival pass or tickets to any best picture nominated film between Jan. 23-Feb. 24.
Through the industry-leading Regal Crown Club, millions of active members accumulate credits at the box office and concession stand to earn rewards including free popcorn, soft drinks, movies and merchandise. Free program membership is available on the Regal mobile app and at www.myregal.com. Moviegoers can also stay up-to-date with Regal and theatre happenings through the Regal Facebook page and Regal mobile app. Moviegoers can program their favorite theatres and purchase tickets all from their mobile devices.