The Cheesecake Factory's Pumpkin and Pumpkin Pecan Cheesecakes Are Back in Season
The Cheesecake Factory announced the return of its famous Pumpkin Cheesecake and Pumpkin Pecan Cheesecake. Anticipated all year, the two seasonal favorites made their annual debut on September 1 which also marked the beginning of Hunger Action Month™. In recognition of Hunger Action Month and continuing its support of hunger-relief, for every slice of Pumpkin Cheesecake and Pumpkin Pecan Cheesecake sold through Thanksgiving, The Cheesecake Factory will donate 25 cents to Feeding America®, the nation's largest organization dedicated to fighting domestic hunger through a network of food banks. Since 2008, The Cheesecake Factory has donated more than $4.2 million to Feeding America through the sale of its specially designated cheesecakes.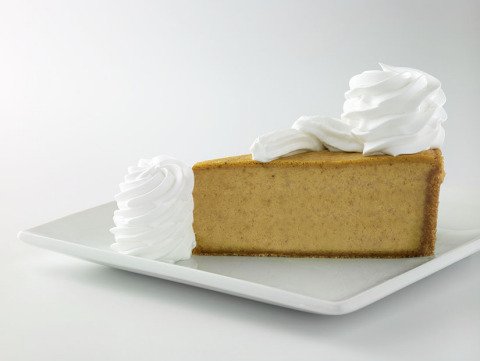 The Cheesecake Factory's Pumpkin Cheesecake is a creamy cheesecake baked in a graham-cracker crust and topped with fresh whipped cream. The Pumpkin Pecan Cheesecake is the best of both worlds, combining a layer of pecan pie with a layer of pumpkin cheesecake finished with caramel and pecans all in a flakey pastry crust.
For more information about The Cheesecake Factory®, please visit www.TheCheesecakeFactory.com