The Walking Dead: March To War, Now on Mobile
Arm yourselves, gather your allies, and fortify your position as Disruptor Beam unleashes hordes of walkers and desperate survivors onto Google Play and the Apple App Store today with the release of competitive multiplayer strategy game The Walking Dead: March To War. Based on Robert Kirkman's renowned comics from Skybound Entertainment, The Walking Dead: March To War is now available for free download worldwide. The game plunges players into a life-or-death struggle in the ruins of Washington, D.C., as they work with and against one another in real-time to survive in the The Walking Dead™ universe.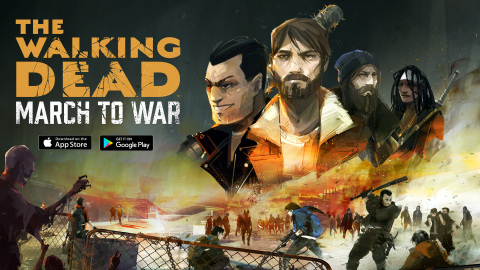 With stunning, handcrafted visuals based on the look of the comics, The Walking Dead: March To War immerses players in a world that is unlike anything seen in other mobile games. Players will navigate a massive, shared map of Washington, D.C., that includes real-world landmarks like the White House, and iconic locations from The Walking Dead universe such as Sanctuary and Hilltop — all locations that players will compete to control.
To survive in The Walking Dead: March To War, players must:
Fight to survive by fending off walkers and other players, building and managing your base and defenses, and scavenging for vital resources.
Form alliances with other players — knowing that your greatest friend today could become your greatest enemy tomorrow.
Lead your community by training your loyal survivors, recruiting iconic Walking Dead characters such as Negan and Rick to be powerful council members, and by making critical decisions that directly affect the game.
The Walking Dead: March To War is available now for free on the Apple App Store and Google Play in four languages (DE, EN, ES, FR), with additional languages coming soon.