Western Digital's My Cloud Home and My Cloud Home Duo
Western Digital Corporation launched My Cloud™ Home, a new personal cloud storage solution that empowers consumers to take control of their often-scattered digital content. With the My Cloud Home solution, consumers can easily aggregate all of their photos, videos and files from their smart phones, computers, USB storage, cloud and social media accounts in one central placei. Using their smart phone, tablet or computer from anywhere with an internet connection, consumers then are free to experience and share that content with family and friends.
With their data spread across 14 different devices on average1, consumers are faced with growing, disparate collections of data and no way to easily access it all. Those collections are expanding to an approximately 4.5TB of data per U.S. household in 20172 and are expected to grow further with increasing popularity of capacity-intensive applications such as virtual reality, 4K, 8K and 360 video.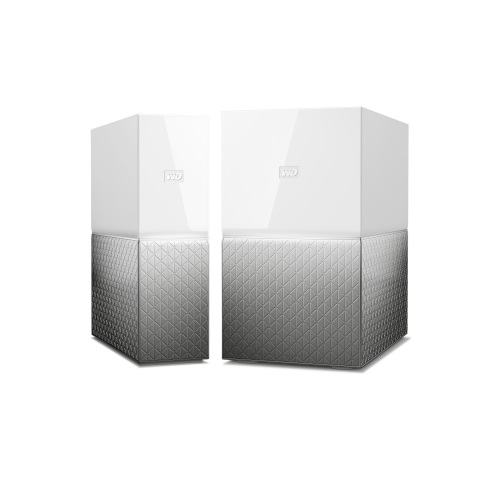 Centralize and Enjoy Content
Users can set the My Cloud Home solution to be set to automatically and continuously copy all user content from their smart phone and computer devices. Files from USB flash drives, external hard drives and memory cards (via a USB adapter) can be quickly imported via its USB port. Additionally, users can connect to and transfer content from their social media platforms and favorite cloud services such as Dropbox, Box, Google Drive and Facebooki. Television shows, movies, home videos and music saved on the My Cloud Home can be enjoyed on a smart TV or media player using the Plex™ app. This content can also be enjoyed on a smart phone or tablet device using the My Cloud Home app.
All Your Content at Your Fingertips
From set up to everyday usage, the mobile phone is the control center of the My Cloud Home experience. With the My Cloud Home mobile app users are empowered to share, access and enjoy all of their content from anywhere in the world with internet access. The My Cloud Home mobile app is also capable of managing the My Cloud Home solution to add services, users or even make sure the system is updated with the latest software.
Additionally, for creative content warriors who may need more storage to house their digital library, there is a dual-drive personal cloud option. The My Cloud Home Duo solution provides all the functionality of the My Cloud Home solution plus a dual-drive configuration set to Mirror Mode (RAID 1) to automatically duplicate content onto a second drive for extra peace of mind.
Pricing and Availability
With no additional service subscription required, the My Cloud Home and My Cloud Home Duo solutions are protected by a two-year limited warranty is available now.
The My Cloud Home solution has a Manufacturer's Suggested Retail Price (MSRP) in the U.S. of $159.99 2TB, $179.99 3TB, $199.99 4TB, $259.99 6TB and $319.99 8TB. The My Cloud Home Duo solution has a MSRP in the U.S. of $309.99 4TB, $399.99 8TB, $549.99 12TB, and $699.99 16TB.
1 Smart Home Ecosystem: IoT and Consumers, CEA/Parks Associates
2 OECD digital economy for #devices 2015 & Corporate Strategy Market Intelligence – Based on independent research and analysis conducted by Western Digital