2018 Eggland's Best America's Best Recipe Contest
Eggland's Best (EB) is once again searching for the best original egg recipe!  The 2018 Eggland's Best "America's Best Recipe" Contest invites EB-enthusiasts from across the country to show off their hometown pride and submit recipes featuring EB eggs combined with their favorite local/state ingredients or dishes.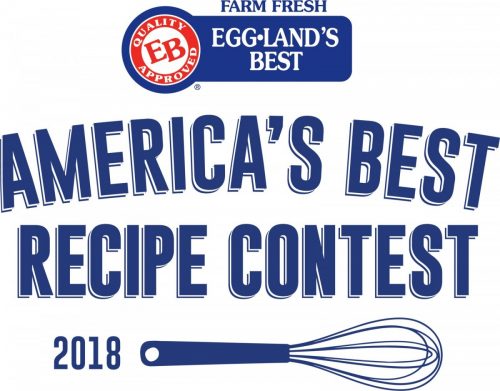 Whether your Philly Cheesesteak gets a fried egg upgrade, or you've got the perfect recipe for an Idaho potato egg salad, you have until April 30, 2018 to submit your original recipes at www.americasbestrecipe.com for a chance to win $10,000!  Fans can submit up to two recipes within each meal category – breakfast/brunch, appetizer, main course and dessert.  With four categories to choose from, and countless local dishes and ingredients across the country – the opportunities are endless! All recipes must also include at least two whole Eggland's Best eggs.  Visit https://www.egglandsbest.com/abr3/ for inspiration and a FREE digital download of the  winning recipes from our 2016 Contest.
A panel of judges, including Registered Dietitian and Nutritionist Dawn Jackson Blatner (winner of the hit primetime ABC television show My Diet Is Better Than Yours), will help score semi-finalist recipe submissions based on taste and creativity. After semi-finalists are selected, Eggland's Best will call on all Americans to help narrow down the "Best in State" recipes and determine the five "Best in Region" finalists by voting for their favorite.
The "Best in Region" recipes will be revealed on the Eggland's Best website where EB fans will have the chance to vote for America's Best Recipe! The Grand Prize winner will be awarded $10,000 and a year's supply of Eggland's Best eggs, and the "Best in Region" prize winners will each receive $1,000 and a year's supply of Eggland's Best eggs. "Best in State" winners will also receive a prize from Eggland's Best.
Compared to ordinary eggs, EB eggs contain six times more vitamin D, 25% less saturated fat, more than double the Omega-3s, ten times more vitamin E and more than double the vitamin B12.  EB eggs are also an excellent source of vitamin B2 (riboflavin) and vitamin B5. EB's superior nutritional profile is due to its proprietary all-vegetarian hen feed that contains healthy grains, canola oil and a wholesome supplement of rice bran, alfalfa, sea kelp and Vitamin E.
For the Official Rules and to submit your original recipes, visit www.americasbestrecipe.com.