Best Buy Kicks Off 20 Days of Doorbusters
It's the question everyone asks at some point during their holiday shopping: "Is this the lowest price I'm going to see?" This year, Best Buy is making it easier than ever for customers to be sure they're finding the very best deals on the hottest tech brands.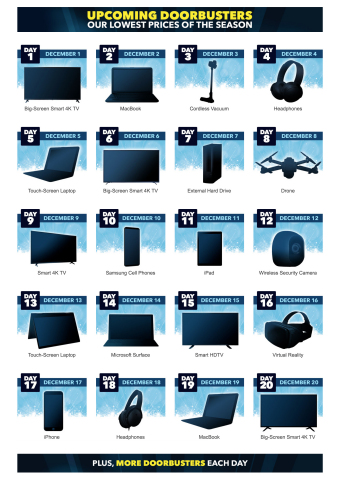 For the first time, Best Buy has created its own holiday countdown calendar, with each day bringing big savings on everything from laptops and 4K TVs to smartphones and tablets. Deals will include top brands customers want most like Apple, LG, Sony, Dyson, Samsung and Microsoft.
The best part? Each day will feature one doorbuster deal that's guaranteed to be the lowest price you'll find at Best Buy all season long.
The countdown begins on Friday, Dec. 1. Each day's deals will be kept a surprise and will not be revealed until the day begins. All deals are only good while quantities last or until 11:59 p.m. CT on the day of the deals, and almost all will be available both in stores and on BestBuy.com.
Shoppers can get a sneak peek of what to expect with the "20 Days of Doorbusters" calendar now featured on BestBuy.com. But they'll want to check back daily on BestBuy.com or the Best Buy app to find out that day's deals.
Get it Fast
Knowing they found the best deal isn't the only easy part for customers this year. They also get free shipping on everything, no minimum purchase required, on BestBuy.com all season long.
And for those who don't want to wait, customers can simply order online and pick up at their local Best Buy store. Best Buy also offers same-day shipping, which is now available to customers in 40 cities.