JAKKS Pacific Launches JAKKS Care Package on Amazon
JAKKS Pacific, Inc. unveiled the JAKKS Care Package™, a unique gift for kids created especially to help alleviate feelings of homesickness. Originally carefully curated with hospitalized children in mind, the JAKKS Care Package™ delivers fun-in-a-box to kids who are away from home for other reasons too, such as a road trip, weekend away, summer camp stay, or even at a slumber party.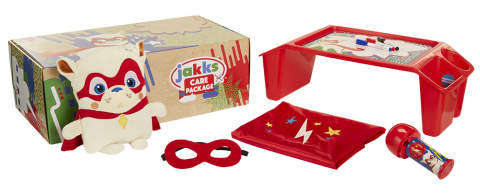 "Every kid loves receiving a care package when they're away from home," said Stephen Berman, Chairman and CEO of JAKKS Pacific. "However, many parents aren't sure what their children want or, in the case of hospitalized children, what's allowed that will also make them feel better and less homesick."
The JAKKS Care Package™ includes:
Jack, a 12-inch cuddly superhero plush pal that doubles as a pillow;
A 21-inch wide and 7-inch tall activity tray specially designed to rest comfortably on the laps of children in hospital beds and also includes: storage space for a kid's favorite things, a cup holder, and 3 dry-erase markers for tabletop doodling fun;
A projector flashlight that illuminates onto a wall or ceiling (it not only lights up a dark room, but it can transform a sterile environment into a magical space of imagination); and
A mask and cape (that can also be used as a blanket) for kids to transform into a superhero ready for adventures!
The JAKKS Care Package™ concept was sparked by a chance discussion between Berman and 22-year-old Austin Reynolds, a regular summer intern at JAKKS Pacific and son of long-time JAKKS employee Merryl Reynolds. During his internship at JAKKS last summer, Austin was "caught" by Berman playing with a tabletop pinball machine. When Berman asked Austin what he liked about the pinball machine, Austin shared his personal experiences of time spent in hospitals as a child and the types of gifts hospitalized children wish for – but rarely receive – given that hospital stays can be scary for kids. Inspired to fill a need, Berman challenged the JAKKS design team to create the ultimate care package for both kids in the hospital and kids otherwise away from home that would help provide comfort, fun and much-needed distraction. The result is the JAKKS Care Package™: thoughtfully designed to help meet the needs of kids who are away from home.
Additionally, for every JAKKS Care Package™ sold, the company's philanthropic arm, JAKKS Cares, will donate a toy to a child in need.
Launching today, the JAKKS Care Package™ retails for $39.99 and can be purchased on Amazon.com.