KFC'S Two Chicken Littles For Just $3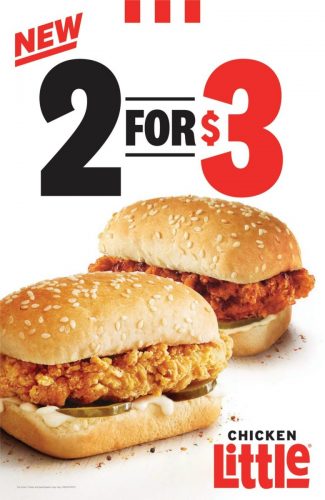 Kentucky Fried Chicken® is offering a two for $3 deal on a menu favorite, KFC Chicken Littles®, for a limited time only.
A bestseller for KFC, Chicken Littles pack an impactful, unmistakably crispy, fresh-from-the fryer, golden brown crunch only KFC can provide. Customers can enjoy the classic sandwich – featuring a freshly hand breaded chicken tender, served with pickles and mayo on a sesame-seed bun – or they can mix and match by adding their favorite KFC flavors – Georgia Gold Honey Mustard BBQ, Smoky Mountain BBQ or Nashville Hot.
With its latest offering, KFC is committed to providing customers with quality food and abundant value. The two for $3 Chicken Littles deal joins KFC's everyday value offers – $5 Fill Ups and $20 Fill Ups.
The sandwich has had a long history as a fan favorite. After a 20-year hiatus from the menu, and a customer outcry that included hundreds of calls to KFC headquarters and even a handful of petitions, KFC's Chicken Littles returned for good in 2012.
Beginning Jan. 28 through Feb. 24, KFC's Chicken Littles will be available in participating U.S. restaurants in a two for $3 deal (prices may vary; tax extra). Customers can add any KFC signature flavor to their two for $3 Chicken Littles order for no additional cost. Flavor availability may vary across restaurants. To find your nearest KFC location, please visit www.KFC.com.