Nest Expands Thermostat Line With Nest Thermostat E
Nest Labs, Inc. announced the expansion of its thermostat line with the introduction of the Nest Thermostat E. With a fresh look, new features, and a lower price point than the Nest Learning Thermostat, the Nest Thermostat E can be controlled from anywhere with your phone, and it comes with a pre-configured basic schedule so you can start saving energy right out of the box. It's been completely re-designed, with an industry-first frosted display that helps it subtly blend into any home. It's everything customers have come to expect from Nest thermostats with a renewed focus on simplicity and control.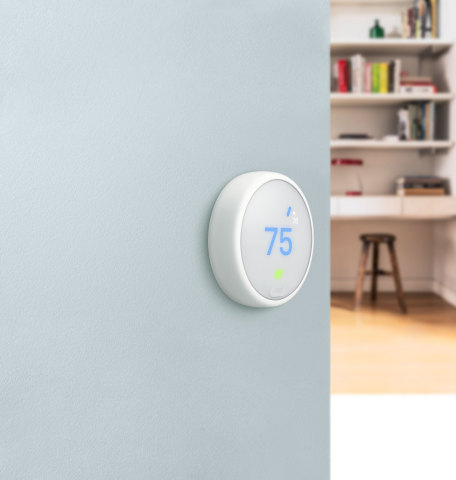 The Nest Thermostat E makes saving energy simple, with a beautiful, subtle design. New features include:
New industrial design. The Nest Thermostat E moves away from the prominent look of the Nest Learning Thermostat and replaces it with a more subtle design, highlighted by a white exterior ring and frosted display.
Frosted display. The frosted display is designed to blend into your home. It achieves this effect with special display technology that lets light out but doesn't let light in. When the frosted display is off, the screen is grey. When it's on, it displays soft text and images that are designed to be easy to see and read with a slight glow. The frosted display uses an ambient light sensor to share information at just the right brightness.
Scheduling made simple. The Nest Thermostat E comes with a pre-set schedule, which enables customers to save energy right out of the box. This can be easily managed directly from the Nest app. Or it can learn your schedule, just like the Nest Learning Thermostat. It's ENERGY STARⓇ certified and expected to save between $131 and $145 a year per the results of an internal Nest study and two independent studies of the previous model1.
The core experience of the Nest Thermostat E includes features that people have come to expect from previous Nest thermostats.
The Nest Thermostat E turns off automatically when it detects nobody is home, to help save energy.
It's easy to change the temperature from anywhere with the Nest app from a phone, laptop, or smartwatch, and even with popular voice assistants such as Google Home or Amazon Alexa.
Through the Works with Nest program, additional connected products, such as ovens and lights, integrate with the Nest Thermostat E to add more comfort and convenience.
Nest sends alerts if the heating or cooling system needs attention, so customers can act before it breaks.
The Nest Thermostat E is easy to install, with most customers installing them in 30 minutes or less. In addition, there are more than 20,000 certified Nest Pros in the U.S. available to install Nest products.
Pricing and Availability
The Nest Thermostat E is available for $169 USD, as well as from leading retailers.
1 Independent studies showed that Nest saved people an average of 10-12% on heating and 15% on cooling. Based on typical energy costs, we've estimated average savings of $131 to 145 a year. That means the Nest Thermostat E can pay for itself in under two years. Individual savings are not guaranteed.