PetSmart Celebrates New Puppy Arrivals with Curated Collection Inspired by Baby Trends, Tips for "Sip & See" Events
Many families welcomed a new puppy into their homes this past holiday season, and PetSmart is celebrating these new arrivals with a New Puppy Collection featuring a range of items from puppy toys and teethers to apparel, accessories, beds and bowls inspired by baby trends. Also borrowing from a popular trend among new parents of babies, PetSmart is sharing puppy shower ideas for new pet parents to host a "Sip & See" party to invite friends to come "sip" refreshments and "see" their new puppy.
Key items in the New Puppy Collection include tug toys with teether rings, cuddly blanket materials in pink and blue featuring unicorns, lions, pigs and giraffes, as well as classic hooded towels for bath time, Prince and Princess bowls, and "throne" beds with royal crown icons and coordinating blankets. Apparel and accessory items include slogan tees like "Little Prince," "Little Princess" and "Hear Me Roar," as well as a tutu skirt and dress and crown headband accessories so the pups can hold court. Harnesses and collars come in pink and blue and are dressed up with bow ties and crowns. The treats collection aligns with the Prince and Princess theme with adorable pink and blue iced crown cut-out cookie treats with the word "Spoiled" scrolled in white icing.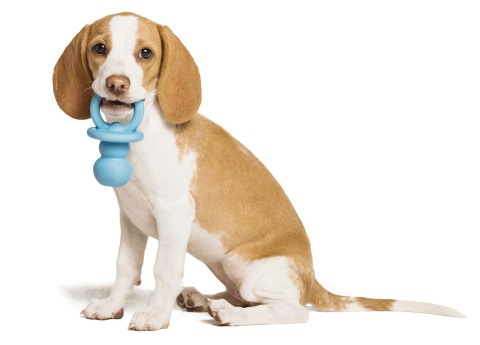 New puppy essentials include crates; ID tags; a wide assortment of puppy pet food options; training, reward and dental treats; puppy pads; cleaners and odor removers; calming solutions; as well as at-home grooming products like puppy wipes, among additional new puppy supplies. The full collection is available at https://www.petsmart.com/featured-shops/new-pet/puppy/.
New Puppy "Sip & See" Party Tips
Timing: A puppy shower or other party to celebrate your new puppy is recommended after the puppy gets his or her first vaccinations, which is about 12-18 weeks. Puppies that are three to four months old are the perfect age to start socializing with other people and pets. Structure the event as an open house, where people and their furry friends can come and go as they please across a three-to-four-hour time period.
Guests: To help socialize the new puppy, invite a mix of adults, kids and dogs. If possible, try to time when guests with dogs will be arriving and work to limit pet guests to no more than two at a time. Keep an eye out to make sure your puppy is not overwhelmed.
Invitation: Send a fun dog-themed invitation to set the tone for the "Sip & See" puppy shower. For example, invitations could include printed dog bones with a pink or blue ribbon along with playful text such as "Sit. Stay. Join us for a Sip & See paw-ty for our new puppy!" Specify the party rules such as don't bring your pet if he/she is aggressive or not housebroken and please attend with your pet on a leash. Have everyone, especially guests bringing pets, RSVP so you can coordinate their attendance.
Food & Drink: Offer delicious pet-themed food for humans. Ideas include making "Puppy Chow" from a cereal snack mix, cookies in the shape of dog bones, popcorn labeled as "pupcorn," or a chili dog bar where people can dress their own hotdogs. Snacks can be served in dog bowls, and a specialty "Salty Dog" drink can be served for adults along with non-alcoholic "Puppy Punch." For the dogs attending the party, make sure there are plenty of water bowls in convenient places so they have fresh water, and have puppy treats on a separate table away from the human fare.
Activities: While everyone takes turns holding and playing with the new puppy, you can have face painting for kids to transform them into puppies themselves, complete with a puppy nose and whiskers. The party can also include a fun game of puppy Bingo, a dog-themed movie playing in the background or dog-themed music like "Who Let the Dogs Out?" With the pet guests, you may want to organize a few group "potty breaks" outdoors.
Decorations & Party Favors: This can be a casual event, which allows you and your guests to give attention to the center-of-it-all: the new puppy. Consider making human and dog cookie treats for "Doggy Bag" party favors that say "Thanks for Pupping In." You can also place sticker dog prints on the floor inside the house leading to the backyard where guests can take their pets outside, or draw paw prints on the sidewalk with chalk leading guests into the "Sip & See" puppy shower.
Gifts: Check out new puppy gift ideas for "Sip & See" puppy shower events at the PetSmart New Puppy Look Book Gift Guide and shop the full collection at https://www.petsmart.com/featured-shops/new-pet/puppy/sip-and-see/.