Spring Cocktail Menu Recipes
Brockmans Gin, the gin like no other, unveils its new after-dark spring cocktail menu that offers a contemporary twist on some enduring cocktail classics.
Brockmans Gin, brimming with blueberry and blackberry notes, has a hint of bitter-sweet Valencian orange peel and coriander and includes other exquisite botanicals such as angelica, lemon peel, licorice, almond and orris as well as juniper berries. Brockmans' distinct taste profile pairs beautifully with the unique seasonal ingredients in their spring signature cocktails.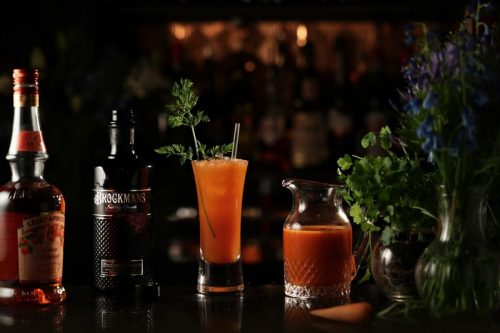 BROCKMANS 'WHAT'S UP BROCK?'
2 parts Brockmans Gin
0.75 part Apricot Liqueur
2 parts Fresh Carrot Juice
Fresh Cilantro leaves (Optional)
Add ingredients to a shaker with ice and shake vigorously.
Strain into a highball glass filled with ice.
Garnish with the green stem of a carrot.
BROCKMANS 'NEGRONI BLANC0'
1 part Brockmans Gin
1 part Bitter Bianco
1 part sparkling grapefruit (0.5 part grapefruit juice /0 .5 part soda water)
Fill a tumbler glass with ice and add Brockmans Gin and Bitter Bianco.  Top with equal measures of grapefruit juice and soda water.  Give it a gentle stir and garnish with a thin wedge of pink grapefruit.
For more deliciously smooth Brockmans Gin Cocktail recipes, visit www.brockmansgin.com.