Southern Glazer's Mixologist – Five Cocktail Recipes
Southern Glazer's Wine & Spirits ("Southern Glazer's")—the largest North American wine and spirits distribution company— recently identified the top cocktail flavor and ingredient trends heading into 2018, following an extensive tasting tour across the U.S. led by an expert team of national sales staff and mixologists. The Company visited 55 of the top mixology and restaurant bars in New York, San Francisco, Los Angeles and Chicago and tasted nearly 250 cocktails.
Here are the top trends uncovered along with custom cocktails that demonstrate these trends created by Southern Glazer's Mixologist, Debbie Peek.
Garden to Glass: The garden to glass trend opens many new doors when looking for additional flavor and color options using existing kitchen ingredients. For example, widely available and often used in restaurants food menus, the snap pea is being muddled in cocktails individually or blended and strained for its juice as a preparation step at the bar. More mixologists are using carrots to blur the line between vegetables and fruit juices. Yellow peppers are versatile, bright in color, and offer a stronger cocktail flavor than the snap pea that can stand up to spirits like tequila and mezcal, in addition to vodka and gin. Herbs typically used in food preparations can also be utilized.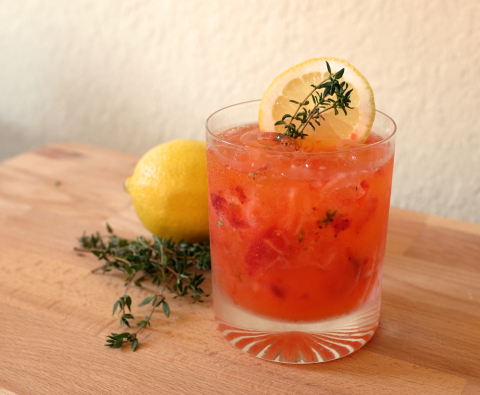 Strawberry Thyme
1 ½ oz. Vodka
2 oz. Lemon Sour
2 Strawberries (quartered)
2 Thyme Sprigs
Method: Muddle strawberries, lemon sour and thyme. Add vodka and ice. Shake, pour into an empty old fashioned glass.
Garnish: Lemon wheel and thyme sprig.
De-Cloy: Although sweet drinks aren't going away soon, consumers have shown with hoppy IPA beers and intense coffees that they're interested in bitter flavors when it comes to beverages. On a beverage menu, bitter flavors as accents versus the lead flavor may appeal more to the masses and allow bartenders to cut the sweetness of added sugar in fruits, wine, whiskeys and rum. Aperitifs, historically a pre-meal palate cleanser or after-meal stomach settler, are now being used as accents in cocktails. Teas and coffees, like macha tea or cold-brews, can provide complex flavor and subtle bitterness through tannin or even color. There are also a variety of other types of bitters being used to de-cloy beverages and add complexity such as Angostura, Peychauds, orange, celery, and mole bitters that can be purchased or made in-house.
Cafe & Tonic
1 ½ oz. Spiced Rum
½ oz. Simple Syrup
2 oz. Cold Brew Coffee
Top with Tonic
Method: Build in an ice filled tall glass.
Garnish: Orange peel.
Globalization: More and more mixologists have been visiting specialty grocery stores or online retailers that offer a wide range of global foods and spices. Middle Eastern inspired ingredients like turmeric are taking off. Tumeric also has anti-oxidant and anti-inflammation properties and works well infused in gin-based drinks. Ginger and nutmeg are also being grated as an accent flavor for strong aroma and flavor. Remember, seasons and spices are very versatile, so when looking through the spice rack, consider not only what could go in the drink but also how the drink could be rimmed or garnished.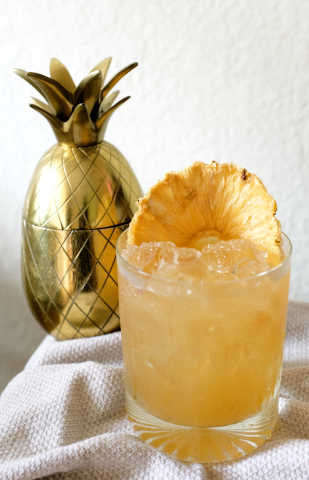 5 Spice Sour
1 ½ oz. Rye Whiskey
¾ oz. Fresh Lemon Juice
¾ oz. Chinese 5 Spice Syrup
1 oz. Pineapple Juice
Method: Shake all with ice. Strain into an ice filled old fashioned glass.
Garnish: Dried Pineapple
Aromatics: To add aromatics to cocktails, we're seeing several ingredients used that offer the mixologist control when adding aromatics to cocktails. Smokiness is a slippery slope. While it can provide a unique layer of complexity, if not applied carefully, it can quickly overtake the drink. By having a variety of levels of smokiness from smoked lapsang souchong tea, to different varieties of scotches and mezcals and even burning wood or herbs, mixologists have a variety of ways to maintain control. Also using "splits" in cocktails has become more prevalent to demonstrate that the drink can be more than the sum of its parts. You can consider bridging these flavors by mix and matching equal parts mezcal with tequila and scotch with bourbon in familiar cocktails for a new twist.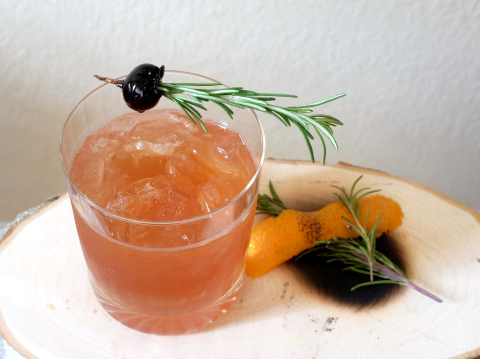 Smoked Orange and Rosemary Old Fashioned
2 oz. Bourbon
½ oz. Simple Syrup
Orange Peel
Cherry
Rosemary Sprig
3 dashes Angostura Bitters
Method: Muddle syrup, orange, cherry, rosemary and bitters. Add bourbon and ice. Stir. Strain into an orange and rosemary smoked ice filled old fashioned glass.
Garnish: Cherry and rosemary sprig.
Smoked Glass: Smoke rosemary sprigs and an orange peel on a wooden plank with torch.
Bubbles: Bubbly ingredients are already likely behind your bar and underutilized. Like vegetable juice, bitter liqueurs and bitters, bubbles are also yet another way to cleanse the palate when used with other sweet or herbal ingredients. For broader application, look at them as platform ingredients. Accent ingredients like spirits or flavored spirits and bitters can provide unique twists on classics your guests will understand and enjoy. Soda, for instance can add frothing action to your cocktails and egg whites can provide a unique softness in flavor to beverages. Beyond just flavor, these bubbly ingredients can provide the visual impact that can take a great cocktail to the next level visually to drive incremental orders.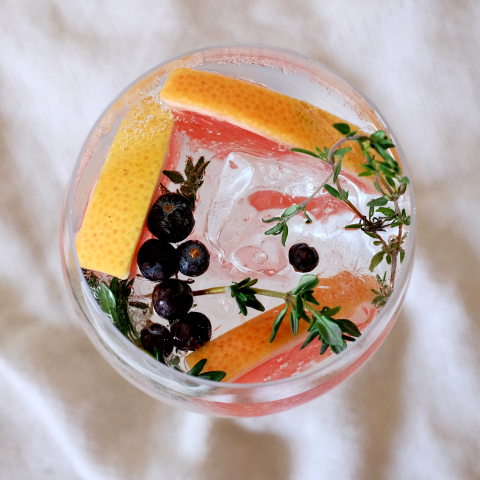 Grapefruit and Thyme G&T
2 oz. Dry Gin
½ oz. Lime Sour
2 Grapefruit ¼ wheels
2 Thyme Sprigs
Juniper Berries
Method: Build in a wine goblet filled with ice.