TacoTime's $4.99 Cilantro Lime Bowls
TacoTime® (www.TacoTime.com), known for serving freshly prepared, home-style Mexican fare,  introduces its new $4.99 Cilantro Lime Bowls, available for a limited time only beginning April 25 through June 26.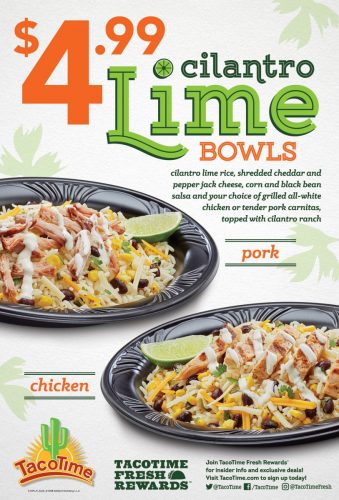 The $4.99 Cilantro Lime Bowls are piled high with Cilantro Lime rice, shredded cheddar and spicy pepper jack cheese, fresh corn and black bean salsa, along with your choice of grilled all-white meat chicken or tender pork carnitas, then topped with cilantro roasted jalapeno ranch and a lime wedge.
"Customers can savor the flavor of citrus and herbs with our refreshing and satisfying Cilantro Lime Bowls for just $4.99," said Aubrey Caruth, senior national marketing manager for TacoTime. "At TacoTime, we are consistently adding high value items to our menu so our customers can enjoy authentic food made with quality ingredients at a price that doesn't hurt their wallet."
The new $4.99 Cilantro Lime Bowls feature all the delicious spices and tastes that TacoTime is known for and with two flavorful protein choices to choose from, this limited time offer will have you bowling for more.