Walmart Reveals the Hottest Toys for the Holidays
It doesn't matter if the kids have been naughty or nice – Walmart knows what they'll all ask Santa for this year. To kick off the countdown to Christmas, the nation's largest toy store today unveiled the list of this year's hottest toys, as rated by a panel of esteemed experts: kids. This year's Top Rated by Kids toy list revealed toys kids can interact with and collect; toys that keep kids moving; and toys inspired by their favorite movie and TV characters will be big this season. This year, nearly a quarter of the list is exclusive to Walmart.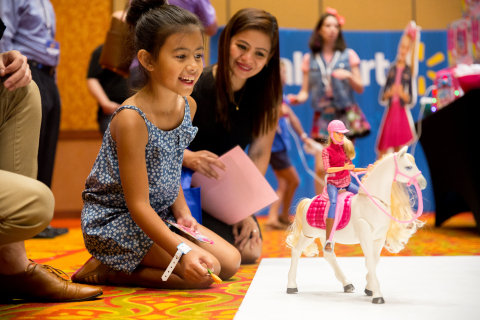 For parents looking to get a head start on holiday shopping, Walmart also announced the return of its popular layaway program to help customers stay on budget or pay over time for their toys and other gifts.
"We are gearing up for the season by starting with what matters most to kids – toys!" said Anne Marie Kehoe, vice president of toys at Walmart U.S. "With a little over three months until Christmas, we want to help parents get ahead of the holiday hunt for the hottest toys and find the best deals. We narrowed down hundreds of toys to the top 25 we know kids will love…but this is just the start. We never stop looking for the hottest toys – ever! You can count on us having the latest trends at the best prices throughout the season."
Top Rated by Kids Toy List
Walmart once again enlisted the help of hundreds of kids, from 18 months to 12 years old, to play with hundreds of contenders and determine the hottest toys coming down the chimney. Like other kid toy experts at the event, brothers, Ashton, 10, and Collin, 6, helped rate the top toys. "I liked the Monster Jam Grave Digger best because I could make it do donuts," said Collin. "The Batbot is cool because I love watching Batman cartoons. And it shoots a motorcycle from its foot." For Ashton, anything customizable and creative was a big hit, including the littleBits Star Wars Droid Inventor Kit.
From Ashton, Collin, and the rest of the toy-testers, Walmart determined what will be on kids' wish lists for Santa this year:
Interactive and Collectible: Toys that inspire creativity, as well as the ones your kids will want to collect and trade with their friends continue to be the hottest trending toys in stores and online. "Kids are looking for toys that allow them to bring their creativity to life," said Kehoe. Taking a favorite from last year to a whole new level, Walmart will have the latest Hatchimals – toys so hot the details are still secret. Collectibles that will soon be scattered on the floors of American homes include:

Hatchimals Surprise (*Coming soon, details to be released on October 6)
Fingerlings
littleBits Star Wars Droid Inventor Kit
Num Noms Nail Polish Maker
FurReal Friends Roarin' Tyler The Playful Tiger
Barbie DreamHorse and Doll
Fisher-Price Zoom 'n Crawl Monster
L.O.L. Surprise Fizz Factory
Soggy Doggy Board Game
Mayka Toy Block Tape
Make 'em Move: Kids and parents alike love toys that keep kids active and moving. Ride-ons like the Frozen Sleigh and Huffy Electric Green Machine Trike will be bigger than ever before, and more will be released later this season. Toys like the Nerf Rival Nemesis and Adventure Force Light Command Light-Up Motorized Blaster encourage kids to run and play. Popular means of moving and grooving include:

Frozen Sleigh (*Walmart exclusive)
Adventure Force Light Command Light-Up Motorized Blaster (*Walmart exclusive)
Monster Jam Grave Digger (*Walmart exclusive)
Huffy Electric Green Machine Trike
Nerf Rival Nemesis MXVII-10K
RECOIL Starter Set
New Bright Radio Control Tumblebee
VTech Pop-a-Balls Drop and Pop Ball Pit (*Walmart exclusive)
Radio Control DashCam (*Walmart exclusive)
Dusty the Super Duper Garbage Truck
Life-Like Licenses: Few things delight kids like toys that bring their favorite characters from top TV shows and movies to life. Walmart's toy shelves will be stocked with fan favorites from Paw Patrol, Batman, Cars 3, and more, including:

Imaginext DC Super Friends Batman Batbot Xtreme
Paw Patrol My Size Lookout Tower
Disney/Pixar Cars 3 Ultimate Florida Speedway
Mickey and the Roadster Racers Transforming Hot Rod Mickey
Disney Junior Doc McStuffins Baby All in One Nursery
Beyond the Top Rated by Kids top 25 toys, Walmart will have thousands of toys to choose from that are sure to put a smile on every child's face. Between Walmart stores and Walmart.com, the retailer will offer more than 1,000 new toys, including more than 300 exclusives at prices customers are looking for. "Top toys are evolving every day, and we're continuing to find those great, new items and bringing them with speed to our customers," said Kehoe.
In keeping with this year's trends, Walmart will have a large selection of ride-on toys and electronics, which will be announced throughout the season. Electronics include the latest in VR and drone technology, as well as video game systems and hundreds of video games. Finally, in anticipation of the release of Star Wars: The Last Jedi, the retailer will also have a large assortment of Stars Wars-licensed toys available.
For more information on the Top Rated by Kids top toys list, visit www.walmart.com/topratedbykids.
Free Layaway Returns to Give Customers a Head Start on Holiday Shopping
Walmart's popular layaway service is once again open, offering customers the opportunity to stay on budget and pay over time for big-ticket items. The top 25 rated toys, along with thousands of other items in Walmart stores, are available to reserve on layaway accounts.
Again this year, there is no opening fee for customers to start a layaway account, and they only need to put down 10% (or $10, whichever is greater). Customers can put items as low as $10 on layaway with a $50 minimum basket. Customers have until Dec. 11 to pay off their account.